Dimitra Thomaidou | Principal investigator

Haralabia Boleti | Principal investigator

The Light Microscopy Unit (HPI-LMU) of the Hellenic Pasteur Institute (HPI) is one of the most modern and well-equipped Imaging Units in Greece and is supported by investigators with strong experience in Imaging Techniques. Aim of the Unit is to provide advanced Light microscopy tools and services to in-house scientists and to visiting scientists. The Unit is stuffed by two experienced researchers: Dr. Dimitra Thomaidou specialising in the field of Neurobiology-Stem Cells and Dr. Haralabia Boleti specialising in the field of Cellular Microbiology. It is also supported by a Research Assistant, Dr. Evangelia Xingi.

The current infrastructure of the HPI-LMU consists of an up-right Confocal microscope, a time-lapse wide field microscope used for long time live cell imaging and the recently acquired combined Confocal and 2-photon microscope.  The microscopes  are widely used by scientists of the HPI who perform studies in the fields of Microbiology, Cell Biology and Neurobiology. The instruments allow double and triple co-localization of molecules in both cellular and sub-cellular levels and imaging of live cells, tissues and whole animal in 4D and 5D. The 2-photon system in particular, is the first to be established in Athens and allows the imaging of dynamic cellular interactions occuring deep inside the tissues in real time. it also gives us the opportunity to develop and perform, for the first time in Greece, intravital imaging experiments in living animals, a cutting-edge imaging approach worldwide.
The methods currently used in the Unit are the following:
Multi-channel fluorescence and transmission microscopy
Multi-color 3D, 4D and 5D imaging
Long-time in vivo time-lapse experiments
2-Photon microscopy
Intravital imaging
Second harmonic  imaging
Fluorescence Resonance Energy Transfer (FRET)
Fluorescence Recovery After Photobleaching (FRAP)
Spectral unmixing of fluorescent dyes
Deconvolution and deblurring
Particle tracking
Colocalization analysis
Calcium imaging
Phase contrast and DIC-Nomarski
Image processing, analysis and visualization tools
The HPI-LMU closely collaborates with the Platform for Dynamic Imaging and the Quantitative Image Analysis Unit of the Pasteur Institute-Paris, for the transfer of knowledge of cutting-edge imaging approaches to HPI imaging users. In addition there is a fruitful collaboration with Prof  F. Kirchhoff (Molecular Physiology – University of Saarland) for the development of 2-photon applications and intravital imaging.The HPI-LMU  is a member of the European Light Microscopy Initiative (ELMI) the Euro-Bioimaging Network and the BioImaging.GR Consortium.
The researchers of the Unit have co-ordinated a Greek Secretariat of Research and Technology "Human Netwoks of R&D" grant on "Light Microscopy Applications in Biomedical Research". Through this grant two series of workshops on Light Microscopy techniques were organized in the Unit during 2004 and 2005, where a significant number of internationally known experts participated as tutors and lecturers.
The members of the Unit have also recently organized the following theoretical and practical workshops entitled:
"Digital image processing/analysis tools in Light Microscopy: From the basics and beyond" , a RIIP (Institut Pasteur International Network) Regional Course, 10-17/6/2013
 "Live cell imaging and electrophysiology", an FP7 Regpot Neurosign workshop, 1-4/10/2013
"Cell biology and Infection: Digital image processing/Analysis tools for Quantitative Light Microscopy Imaging" RIIP International course, 4-8 July 2016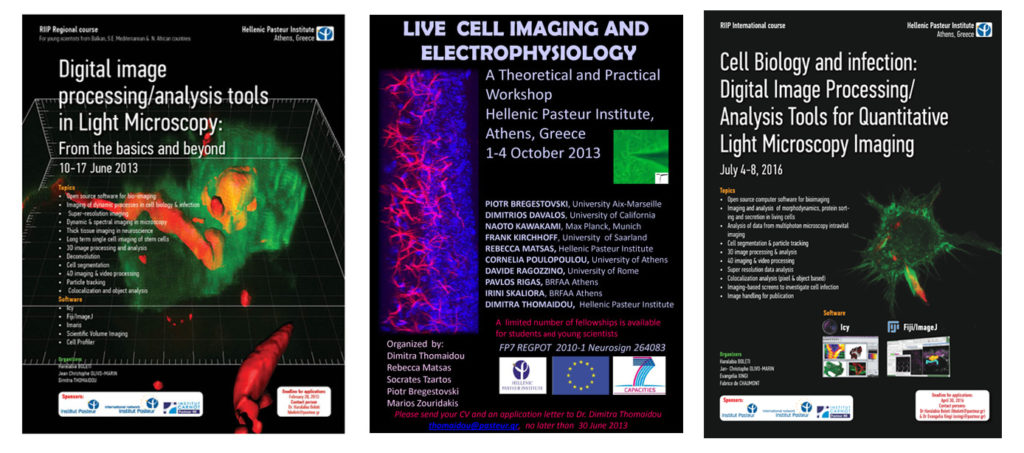 The equipment of the HPI Light Microscopy unit is available for use by external users from other Greek Research centers and Universities under a symbolic price of 20 € / hour of use.
EQUIPMENT
Current equipment in the Light Microscopy facility includes:
 Leica TCS-SP5II Two-photon Confocal Microscope with Spectra Physics Mai Tai infrared laser source ( link ).
The system was acquired through 7th EU Framework Neurosign/Regpot grant.  It is the first 2-photon system to be established in Athens and allows the imaging of dynamic cellular interactions occurring deep inside the tissues in real time.
 In HPI this cutting-edge imaging technology is applied  in the fields of Basic and Translational Research in Neuroscience for the study of interactions between cells of the brain in order to understand its function, the study of the pathogenesis of neurodegenerative diseases and injuries of the nervous system and the development of innovative therapeutic approaches. In the near future we plan to expand the applications of intravital imaging a) to observe the entry of infectious agents ( bacteria , parasites and viruses ) in the cells and tissues and to study the progress and consolidation of infection in real time, in order to discover new therapeutic targets, b) to study the immune system cells and their interactions with other systems, and c) to observe the progression of tumors and understand the mechanisms leading to metastasis to develop new targeted drugs.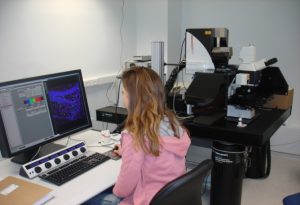 Technical specifications of the Leica TCS-SP5II Two-Photon Confocal Microscope
The Multiphoton Confocal system is appropriate for studies of live biological samples in 3D and real time, as well as for imaging of whole small animals. The basic confocal system holds all the appropriate parts for Multiphoton microscopy applications (infrared (IR) laser source, multiphoton detectors, multiphoton fluorescence separating filters). More specifically, the technical characteristics of the system are:
A. Automated fixed-stage up-right confocal microscope, with alterations for also performing multiphoton microscopy bearing:
Automated scanning stage, for acquisition of optical sections in Z-axis (z-galvo for precise movements, z-wide for coarse movements)
Automated and coded disc for 6 objective lenses
Head equipped with flat occular lenses 10X
Detector of transmitted light that allows simultaneous projection of fluorescence and transmitted light images.
 Halogen light source 12V, 100W for transmitted light applications.
 External Hg light source 120W for fluorescence applications, equipped with diaphragms for volume fluctuations and optical fibers for light transfer.
 Disc for holding 5 fluorescence filter sets and 3 filter sets for the UV (340/425), blue (450/490) and green (515/561) wavelengths.
 Flat apochromatic lenses of excellent quality, corrected to infinite and to UV. Dry lenses: 10X (NA 0.3) and 20X (NA 0.7), Oil-immersion lenses: 40X (NA 1.3) and 63X (NA 1.4).
The microscope body is surrounded by dark environmental chamber (with controlled temperature, humidity and CO2 concentration) for performing live cell imaging experiments.
   The whole system is placed onto special anti-vibration table.
B. The confocal scanning system contains:
High analysis scanning head for scanning at: a) xyz-axis, b) xzy-axis, c) temporal image scanning at xt, xyt, and xyzt, d) zoom between 1x and 64X and e) spectral scanning xλ, xyλ and xzλ,  Scan resolution: Up to 8192 x 8192 pixels, Scanning speed: upto 1400 Hz
4 laser sources (405Diode, Argon, DPSS 561, HeNe 633) and laser lines covering wavelengths from UV to IP (405-650nm), more specifically at 405, 458, 476, 488, 496, 514, 561 and 633nm.
Acousto-optic tunable filters (AOTF) for selecting specific wavelengths for excitation light
Two photo-multipliers (PMTs) for confocal detection, a HyD3 detector of enhanced sensitivity and quantosome yield, and a PMT trans detector for phase-contrast detection. All these detectors have independent gain, offset and spectral position adjustments.
The function of the whole system is controlled by a PC with latest technology 64 Bit processor, Windows 7 system, 2GB RAM memory, 2 hard discs 1000 and 160GB, network card, Dyal Layer /DVD writer and 30''LCD screen with 2560X1600 Pixel analysis.
The system's software LAS AF allows the full control of the confocal microscope, laser sources and scanning head, image acquisition and storage, 3D image reconstruction from serial optic sections, creation of time- lapse movies and image processing.
The system also allows FRET and FRAP applications, as well as pre-programmed workflow applications (FRET and FRAP wizard) and contains optic system for laser enhancement for FRAP application, that can be selected and controlled through the software (FRAP booster).

C. For Multiphoton applications in thick samples and whole small animals the confocal system contains:
Spectra Physics Mai Tai DeepSee infrared laser source
Laser intensity controllers: a continuously adjustable electro-optical modulator (EOM) and a mechanical polarizer (half-wave plate)
Carier of 2 external non-descanned detectors  (NDDs) for maximum signal collection. The available filter configurations are: FITC/TRITC, DAPI/TRITC, DAPI/FITC and CFP/YFP.
One ceramic water-immersion objective lense 25X with high NA of 0.9 and working distance of 2500μm, dedicated for the transmission of the IR laser and  appropriate for whole animal imaging.
Multi-axis mouse holder stage with 4 incorporated drives  for manual movement in the x, y dimensions and rotation mounts with graduated scale for repetitive imaging (provided by Prof F. Kirchhoff laboratory).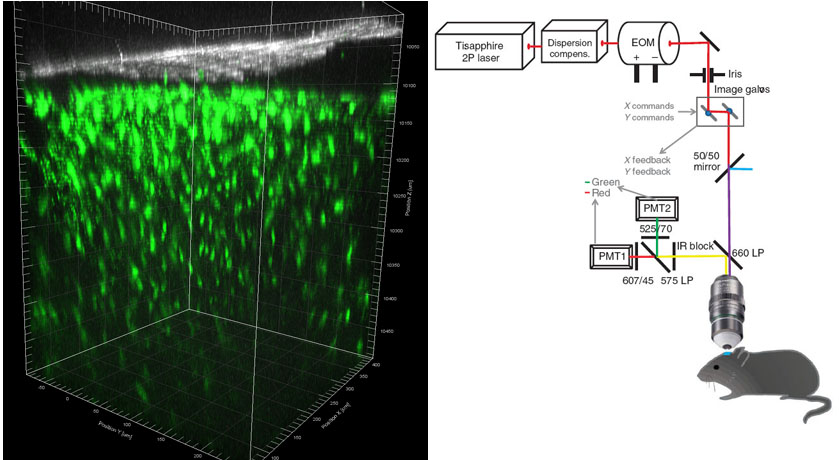 2. Wide-field Time-lapse Olympus IX-81 Cell-Rimaging system. A Live Cell Imaging System, composed of a wide field, inverted, fully motorized Olympus IX-81 microscope equipped with:
Olympus IX8S1F-ZDC stage (inverted) for DIC and phase contrast imaging.
a Hamamatsu CCD ORCA/AG cryocamera
a fast excitation filter wheel
Temperature and CO2 chamber
hardware for FRET
the CellR imaging software
air conditioning unit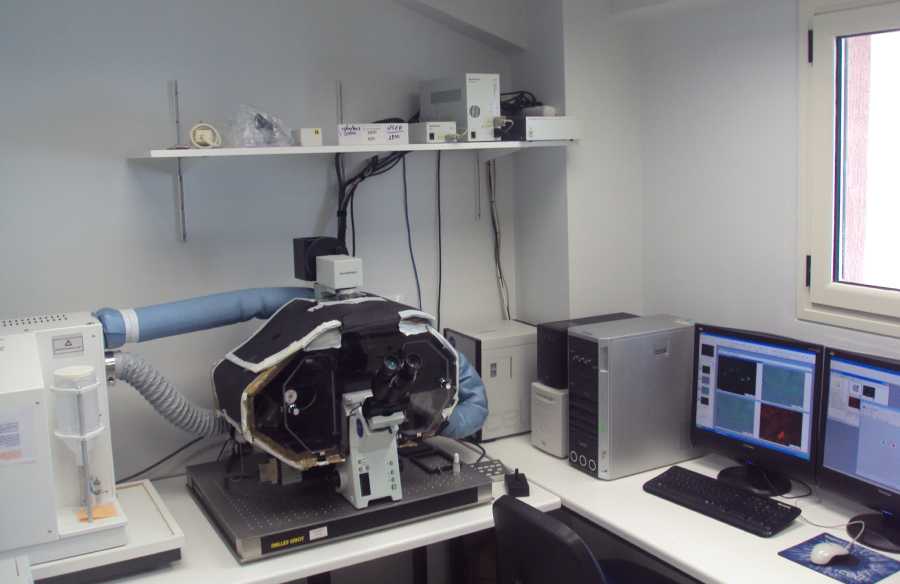 This system allows fastmulticolor 3D imaging,transmission microscopy (phase-contrast and Nomarski-DIC), in vivo time-lapse experiments (4D imaging), long-time live cell imaging experiments, spectral unmixing of fluorescent dyes, FRET and 3D-dencovolution analysis (with the following softwares: No neighbor, Nearest neighbor, Inverse filter and 3D blind). The system is also equipped with video editing softwares (AVS video remaker, AVS video converter).
| | | |
| --- | --- | --- |
|           Objective |    Numerical Aperture(ΝΑ) |  Type depending on the    immersion medium |
|  10x Ph1 UPlanFLN |   0.3 |   dry |
|  20x Ph2LUCPLanFLN |   0.45 |   dry |
|  40x LUCPLanFLN |   0.6 |   dry |
|  60x PlanApo |   1.42 |   oil |
|  60x UPLSApo |   1.2 |   water |
|  100x UPLSApo |   1.4 |   oil |
3. Leica TCS-SP Confocal Microscope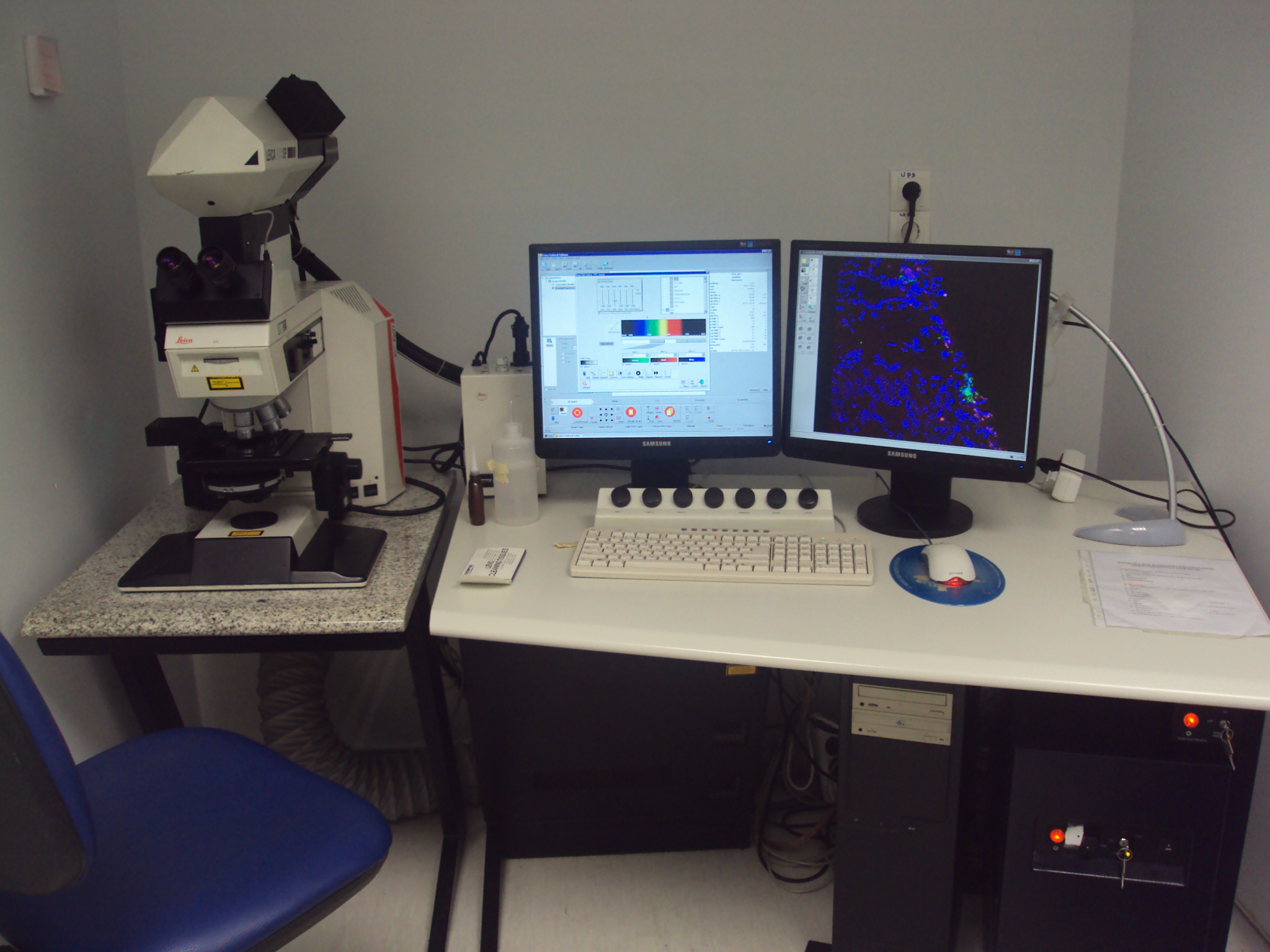 A DMR upright microscope,equipped with Argon and Helium-Neon Lasers and 3 fluorescence detector PMTs (spectral detection option) as well as 1 transmission light PMT (phase contrast). The Confocal system operates with the Image acquisition and analysis Leica Confocal Software LCS, which allows for 2D measurements as well as for 3D image reconstructions. The microscope is also equipped with FITC and Rhodamine filter sets for conventional epi-illumination
4. Workstation and software for image processing
The Light microscopy unit is also equipped with an Image analysis workstation with a powerful graphics card. the software installed on the computer are:
Imaris v 8.3.1 (modules: Measurement Pro, Coloc, Vantage)
Icy
ImageJ/Fiji
Image-pro Plus
Olympus Cell R, LAS AF
5. Cell-culture facility
A small tissue culture facility consisting of a BSL2 laminar flow hood, a centrifuge and a CO2 incubator is also set up within the imaging unit.

REGULATIONS
Registration
New users of the Light Microscopy Unit (LMU) of HPI as well as current users, who are starting a new project should submit a project submission form at the Light Microscopy Unit of HPI. We need all necessary information to organize on time introductory sessions  for using the instruments, as well as for teaching and supporting sample preparation techniques and new imaging protocols. You can download the LMU Project submission form, fill it in and send it to exingi@pasteur.gr.
HPI users

The use of all the equipment of the HPI Light Microscopy Unit is free of charge for HPI scientists. HPI users are currently booking the instruments through sending an  e-mail to the group e-mail address: imagingusers@pasteur.gr. Each user can book a microscope for a maximum of 4 hours per day twice a week.  In the case that the microscopes are available this time can be extended.
External users
The HPI's imaging systems can be used by external users, who should contact the responsible scientists of the Unit in order to arrange the exact time of the microscope booking. There is a charge of 20 € / hour for the use of either one of the two systems.
New users' training
The new users of the two imaging systems must follow a training session by the responsible technician before they are allowed free entrance to the Unit.  More specifically, the new users should:
• Initially get informed by the responsible scientists about the booking system and get trained on the basic principles of the systems' use, as well as, the possibilities they offer for the application he/she needs them.
• For the first three sessions of use of the particular microscopes the user should be accompanied and supervised by the Unit's technician.
Publications
All work published that includes results obtained using the microscopes and/or the image analysis software of the LMU of HPI  must be acknowledged and a copy of the publication should be sent in paper or pdf to the LMU of HPI .
Collaboration
Scientific projects can be performed in collaboration with the members of the LMU of HPI. Collaboration is typically characterized by intensive scientific input, preparation and analysis of samples and/or development of innovative imaging protocols. The members of the LMU of HPI involved in collaboration must be authors on resulting publication.
TRAINING
Τraining in the use of microscopes and in image analysis applications
Training in the use of the microscopes and the image  analysis software are conducted by the members of the Unit. Guides in the use of the Leica TCS-SP Confocal microscope and the wide-field Olympus IX-81 Cell-R imaging system can be found in the greek version of the website.

Image processing and analysis
Image pro plus- Quantification of fluorescence intensity
Image pro plus- Quantitative colocalization analysis
Tips for colocalization studies (Colocalization hardware setup and image acquisition)
Imaris- 3D reconstruction
Image J- 3D Viewer
Olympus Cell R- 3D Deconvolution
Olympus Cell R- Spectral unmixing
Image J- (Particle tracking, Particle Analysis, MTrack J)
COURSES
1.Institut Pasteur International Network course 2016
"Cell Biology and infection: Digital Image Processing/Analysis tools for Quantitative Light Microscopy Imaging"
Course date: July 4-8 2016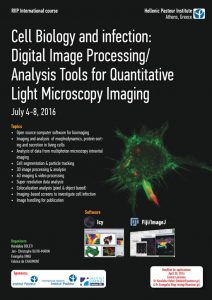 A 5-day practical course was organized in the Hellenic Pasteur Institute in Athens Greece with objective to provide theoretical and practical training in basic and advanced concepts and methods of Bioimage informatics.
The course Program included:
Lectures focused on concepts and methodology for Processing/Analysis of Light Microscopy Digital data (images and videos) and selected topics of Cell Biology and Biology of Pathogen Host interaction.
Computer practical sessions on the quantitative analysis of microscopy image datasets using the open source software Icy and ImageJ/Fiji
Informal discussions and tutorials with experts in the field
23 selected trainees followed both the theoretical and practical training. The trainees,  instructors and speakers who participated in the course were from 11 different countries and 4 continents.
Sponsors:
Pasteur International Network Association (APIN), Institut Carnot Pasteur Maladies Infectieuses, Institut Pasteur, Hellenic Pasteur Institute
Download:
Program
Abstract booklet RIIP 2016
Poster
Teaching team lectures and practicals
Οργανωτές:
1. Haralabia Boleti
Dept. of  Microbiology &  Light Microscopy Unit Hellenic Pasteur Institute, GREECE
Email: hboleti@pasteur.gr
Tel.: +30 2106478879
2. Jean Christophe Olivo-Marin,
Quantitative Image analysis Unit,  Institut Pasteur, FRANCE
Email: jcolivo@pasteur.fr
Tel.: + 33 (0)1 45 68 85 06
3. Evangelia Xingi
Light Microscopy Unit Hellenic Pasteur Institute, GREECE
Email: exingi@pasteur.gr
Tel. +30 2106478834
4. Fabrice de Chaumont,
Quantitative Image analysis Unit,  Institut Pasteur, FRANCE
Email:  fabrice.de-chaumont@pasteur.fr
Tel.: + 33 (0)1 45 68 86 90
2. 2103 European FP7 Regpot-2010-1 "Neurosign" program theoretical and practical workshop
"Live Cell Imaging and Electrophysiology"
Workshop date: 1-4 October 2013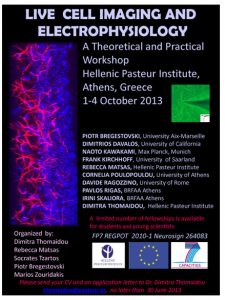 The workshop was organized in the Hellenic Pasteur Institute in Athens, Greece. The aim of this workshop was toprovide post graduate and post doctoral scientists with a conceptual and practical understanding of CNS live cell imaging in whole animal level, as well as electrophysiology.
During the practicals, the 20 selected participants had the chance to observe both live and video recorded experiments including surgical procedures for creating brain and spinal cord windows, intravital Multiphoton imaging and whole-cell and single-channel recordings, using the patch-clamp technique  applied on mammalian cells.
The funding was provided by the FP7 REGPOT 2010-1 EC Program "NeuroSign" that aims at the establishment of a Centre of Excellence for the study of Neurosignalling during nervous system function and dysfunction at the Hellenic Pasteur Institute. The Workshop abstract booklet can be downloaded here.
Workshop program:
 3. 2013 RIIP Regional Course
"Digital image processing/ analysis tools in Light Microscopy: From the basics and beyond"
Course date: June 10-17 2013
An 8-day Internationalcourse was organized in the Hellenic Pasteur Institute in Athens, Greece. The course  objective was to provide theoretical and practical training in basic and advanced concepts and methods of digital image analysis and in the use of several open source and commercial software for quantitative assessment of fluorescence microscopy data through: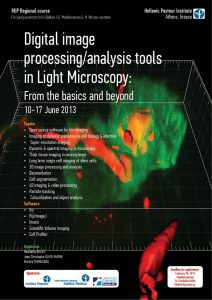 Lectures

Hands – on practical training sessions with participants' microscopy data or data provided by the instructors.

Informal discussions and tutorials with experts in the field.
Practical sessions on the following image analysis software: Imaris, Scientific Volume Imaging (SVI), Image J/Fiji, Icy bioimage analysis, Cell profiler and Timm's Tracking Tool.
20 selected trainees followed both the theoretical and practical training. The trainees,  instructors and speakers who participated in the course were from 14 different countries and 3 continents. The course was funded by the Reseau International Institut Pasteur (RIIP) and the Institut Carnot Maladies Infectieuses (2013).
Download
Course Application Form
Poster
Course Information
Course Tentative Program
Organizers:
1. Haralabia Boleti
Dept. of  Microbiology &  Light Microscopy Unit, Hellenic Pasteur Institute, GREECE
Email: hboleti@pasteur.gr
Tel.: +30 2106478879
2. Jean Christophe Olivo-Marin
Quantitative Image analysis Unit, Institut Pasteur, FRANCE
Email: jcolivo@pasteur.fr
Tel.: + 33 (0)1 45 68 85 06
3. Dimitra Thomaidou
Dept. of Biochemistry & Light Microscopy Unit, Hellenic Pasteur Institute, GREECE
Email: thomaidou@pasteur.gr
Tel.: +302106378833
4. Workshops in Light Microscopy and Image Analysis (2004 & 2005)
The scientists of the HPI Light Microscopy unitorganized (2004 & 2005) a series of workshops on Light Microscopy and image analysis and coordinated the activities of the "greek Light Microscopy network" formed by scientists from HPI, the University of Ioannina, the Institute of Biomedical Research at Ioannina, and the University of Crete. The workshops were sponsored by the Greek Secretariat of Research and Technology in the context of the Operational program "COMPETITIVENESS" (http://www.antagonistikotita.gr/) action 8.3.6- Creation of communication channels for academics, research/technology entities and enterprises with common scientific interests- "HUMAN NETWORKS".
Organizers of the HPI Workshops : Drs H.Boleti & D.Thomaidou
Project coordinator: Dr Haralabia Boleti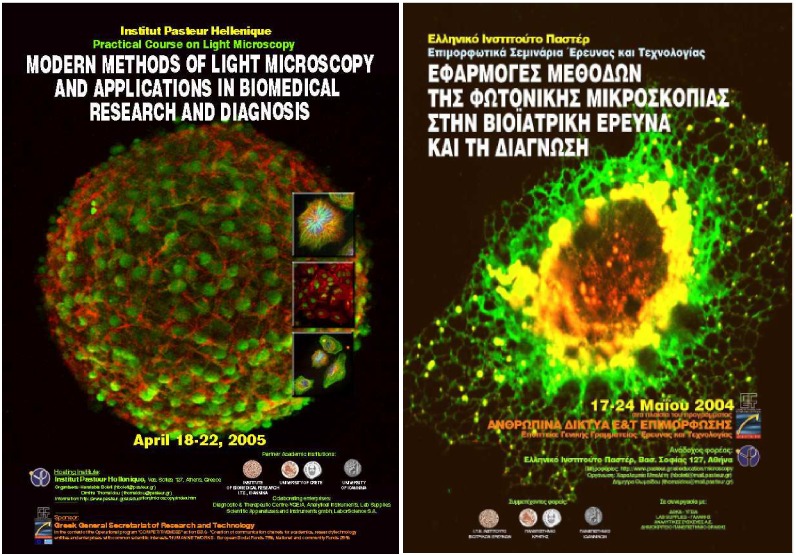 LINKS
Information for the HPI Unit equipment:
Websites with useful information for microscopy:

Databases of fluorochromes, dyes, their spectra and appropriate filter combinations:
Useful information for Deconvolution:
Useful information for FRET:
Practical Microscopy courses:
PUBLICATIONS
2013
Functional Interactions between BM88/Cend1, Ran-Binding Protein M and Dyrk1B Kinase Affect Cyclin D1 Levels and Cell Cycle Progression/Exit in Mouse Neuroblastoma Cells.Tsioras K, Papastefanaki F, Politis PK, Matsas R, Gaitanou M. (2013). PLoS One. 2013 Nov 28;8(11):e82172
A mutagenesis method for the addition and deletion of highly repetitive DNA regions: the paradigm of EPIYA motifs in the cagA gene of Helicobacter pylori. Papadakos KS, Sougleri IS, Mentis AF, Sgouras DN. Helicobacter. 2013 Jun;18(3):229-41.
Eisosome distribution and localization in the meiotic progeny of Aspergillus nidulans. Athanasopoulos A, Boleti H, Scazzocchio C, Sophianopoulou V. Fungal Genet Biol. 2013 Apr;53:84-96.
Subventricular zone-derived neural stem cell grafts protect against hippocampal degeneration and restore cognitive function in the mouse following intrahippocampal kainic acid administration. MiltiadousP, KouroupiG, StamatakisA, KoutsoudakiPN, MatsasR,StylianopoulouF. Stem Cells Transl Med. 2013 Mar;2(3):185-98
2012
Cell surface Cdc37 participates in extracellular HSP90 mediated cancer cell invasion. El Hamidieh A, Grammatikakis N, Patsavoudi E. PLoS One. 2012;7(8):e42722.
2011
The 4C5 cell-impermeable anti-HSP90 antibody with anti-cancer activity, is composed of a single light chain dimer. Sidera K, El Hamidieh A, Mamalaki A, Patsavoudi E. PLoS One.2011;6(9):e23906.
2010
Lentivirus-mediated expression of insulin-like growth factor-I promotes neural stem/precursor cell proliferation and enhances their potential to generate neurons. Kouroupi G, Lavdas A, Gaitanou M,Thomaidou D, Stylianopoulou F and Matsas R.(2010). J. of Neurochemistry. 2010 Oct;115(2):460-74.
Soluble forms of the cell adhesion molecule L1 produced by insect and baculovirus-transduced mammalian cells enhance Schwann cell motility. Lavdas A, Efrose R,Douris V , Gaitanou M, Swevers L, Thomaidou D, Iatrou K and Matsas K. (2010).J. of Neurochemistry 2010 Dec;115(5):1137-49.
ER targeting and retention of the HCV NS4B protein relies on the concerted action of multiple structural features including its transmembrane domains. Boleti H., Smirlis D., Dalagiorgou G., Meurs E., Christoforidis S., & Mavromara.P. (2010). Mol. Memb. Biol. 27(1):50-74
Cloning and functional characterization of LjPLT4, a plasma membrane xylitol H+– symporter from Lotus japonicus. Kalliampakou Κ. Kouri Ε., Boleti H., Pavli O., Maurousset L.,. Udvardi M., Katinakis P., Rémi Lemoined, and Flemetakis E. (2010). Mol. Membr. Biol. Epub ahead of print
Endocytosis of hepatitis C virus non-enveloped capsid-like particles induces MAPK-ERK1/2 signalling events. Konstantina Katsarou, Alexandros Α. Lavdas, Panagiota Tsitoura, Elisavet Serti, Panagiotis Markoulatos, Penelope Mavromara and Urania Georgopoulou. (2010). Cell Mol Life Sci. Epub ahead of print
Schwann cells engineered to express the cell adhesion molecule L1 accelerate myelination and motor recovery after spinal cord injury. Alexandros A Lavdas, Jian Chen, Florentia Papastefanaki, Suzhen Chen, Melitta Schachner, Rebecca Matsas, Dimitra Thomaidou (2010). Exp Neurol. 221 206–216
Transplantation of embryonic neural stem/ precursor cells overexpressing BM88/Cend1 enhances the generation of neuronal cells in the injured mouse cortex. Georgia Makri, Alexandros A. Lavdas, Lida Katsimpardi, Pierre Charneau, Dimitra Thomaidou and Rebecca Matsas. (2010). Stem Cells. 28(1):127-39
2009
Leishmania donovani Ran-GTPase interacts at the nuclear rim with linker histone H1. Smirlis D, Boleti H, Gaitanou M, Soto M, Soteriadou K.(2009). Biochem J. 10;424(3):367-74
6-Br-5methylindirubin-3'oxime (5-Me-6-BIO) targeting the leishmanial glycogen synthase kinase-3 (GSK-3) short form affects cell-cycle progression and induces apoptosis-like death: exploitation of GSK-3 for treating leishmaniasis. Xingi E, Smirlis D, Myrianthopoulos V, Magiatis P, Grant KM, Meijer L, Mikros E, Skaltsounis AL, Soteriadou K.(2009). Int J Parasitol. 39(12):1289-303
Green fluorescent protein – Tagged HCV non-enveloped capsid like particles: development of a new tool for tracking HCV core uptake. Katsarou K, Serti E, Tsitoura P, Lavdas AA, Varaklioti A, Pickl-Herk AM, Blaas D, Oz-Arslan D, Zhu R, Hinterdorfer P, Mavromara P, Georgopoulou U.(2009). Biochimie. 91(7):903-15.
Neuronal I kappa B kinase beta protects mice from autoimmune encephalomyelitis by mediating neuroprotective and immunosuppressive effects in the central nervous system. Emmanouil M, Taoufik E, Tseveleki V, Vamvakas SS, Tselios T, Karin M, Lassmann H, Probert L. (2009). J Immunol. 183(12):7877-89
BM88/Cend1 regulates stimuli-induced intracellular calcium mobilization. Masgrau R, Hurel C, Papastefanaki F, Georgopoulou N, Thomaidou D, Matsas R.(2009). Neuropharmacology 56(3):598-609.
2008
Incorporation of the Arc1p tRNA-binding domain to the catalytic core of MetRS can functionally replace the yeast Arc1p-MetRS complex. Karanasios E, Boleti H, Simos G. (2008). J Mol Biol. 381(3):763-71
Expression studies of the HCV-1a core+1 open reading frame in mammalian cells. Vassilaki N, Boleti H, Mavromara P. (2008). Virus Res. 133(2):123-35
Deleted in Azoospermia-Like (DAZL) gene expressing cells in human amniotic fluid: a new source for germ cells research? Konstantinos Stefanidis, Dimitris Loutradis, Lemonika Koumbi, Vasiliki Anastasiadou, Vasiliki Dinopoulou, Erasmia Kiapekou, Alexandros A Lavdas, Spiros Mesogitis, Aris Antsaklis. (2008).Fertil Steril. 90(3):798-804
BM88/Cend1 expression levels are critical for proliferation and differentiation of subventricular zone-derived neural precursor cells. Katsimpardi L, Gaitanou M, Malnou CE, Lledo PM, Charneau P, Matsas R, Thomaidou D. (2008). Stem Cells. 26(7):1796-807.
A critical role for HSP90 in cancer cell invasion involves interaction with the extracellular domain of HER-2.Sidera K, Gaitanou M, Stellas D, Matsas R, Patsavoudi E. (2008). J Biol Chem. 283(4):2031-41. 7.716
2007
In vitro activity of 10-deacetylbaccatin III against Leishmania donovani promastigotes and intracellular amastigotes. Georgopoulou K, Smirlis D, Bisti S, Xingi E, Skaltsounis L, Soteriadou K. (2007). Planta Med. 73(10):1081-8
Expression studies of the core+1 protein of the hepatitis C virus 1a in mammalian cells: the influence of the core protein and proteasomes on the intracellular levels of core+1. Vassilakι Ν, Boleti Η. and Mavromara P. (2007). FEBS J. 274(16):4057-74
Grafts of Schwann cells engineered to express PSA-NCAM promote functional recovery after spinal cord injury. Florentia Papastefanaki, Jian Chen, Alexandros A. Lavdas, Dimitra Thomaidou, Melitta Schachner and Rebecca Matsas.(2007). Brain. 130(Pt 8):2159-74
BM88/CEND1 coordinates cell cycle exit and differentiation of neuronal precursors. Politis PK, Makri G, Thomaidou D, Geissen M, Rohrer H, Matsas R. 2007. Proc Natl Acad Sci USA.;104(45):17861-6.
2006
Leishmania histone H1 overexpression delays parasite cell-cycle progression, parasite differentiation and reduces Leishmania infectivity in vivo. Smirlis D, Bisti SN, Xingi E, Konidou G, Thiakaki M, Soteriadou KP.(2006). Mol Microbiol. 60(6):1457-73
Schwann cells genetically engineered to express PSA show enhanced migratory potential without impairment of their myelinating ability. A. A Lavdas, I. Franceschini, M. Dubois-Dalcq, R. Matsas. (2006).Glia 53(8): 868-78
Baculovirus-mediated gene delivery into Mammalian cells does not alter their transcriptional and differentiating potential but is accompanied by early viral gene expression. C Kenoutis, R C Efrose, L Swevers, A A Lavdas, M Gaitanou, R Matsas, K Iatrou. (2006).J. of Virol. 80(8):4135-46
BM88 is a dual function molecule inducing cell cycle exit and neuronal differentiation of neuroblastoma cells via cyclin D1 down-regulation and retinoblastoma protein hypophosphorylation. (2006). J Biol Chem. 281(44):33606-20.
2004
BM88 is an early marker of proliferating precursor cells that will differentiate into the neuronal lineage.Koutmani Y, Hurel C, Patsavoudi E, Hack M, Gotz M, Thomaidou D, Matsas R. Eur J Neurosci. 2004. 20(10):2509-23.
2002
Expression of a novel Leishmania gene encoding for an histone H1-like protein in L. major modulates Leishmania infectivity in vitro. F. Papageorgiou and K. Soteriadou. (2002). Infect. Immun. 70, 6976-6986
MEMBERS