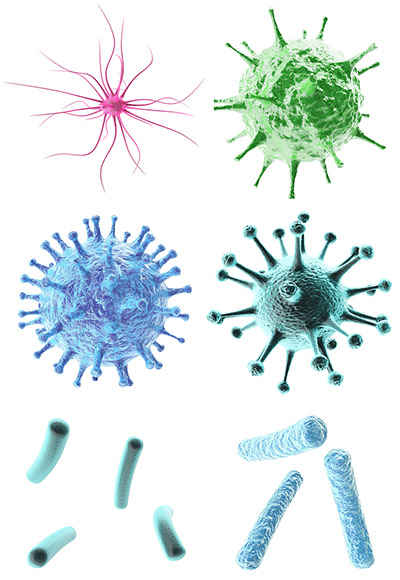 National Reference Centre for Neisseria gonorrhoeae (NRCNG)
Nominated National conduct point for ECDC
OBJECTIVES
The National Reference Centre for Neisseria gonorrhoeae (NRCNG) conducts surveillance for N. gonorrhoeae in Greece, mainly focused in monitoring antimicrobial susceptibility of gonococci circulating in the Greek community, in order to notify the emergence and spread of resistant strains. In this context, the NRCNG has been nominated to be the national contact point for ECDC and participates in the Microbiology Project of the European Network for Surveillance of Sexually Transmitted Infections and the related European Gonococcal Antimicrobial Susceptibility Surveillance Program (Euro-GASP).
More specifically, the activities of the NRCNG, quantitatively presented for the years 2013-2018 in the Table below, include:  (a) Systematic collection of gonococcal isolates and data for gonorrhoea cases diagnosed throughout Greece; (b) Typing of gonococci using conventional and sequence-based molecular methodology; (c) Susceptibility testing against the antibiotics that are available for gonorrhoea therapy; (d) Investigation of resistance mechanisms in selected isolates with new or rare patterns of resistance; (e) Reporting annually to the Greek Ministry of Health and to the ECDC results from susceptibility testing.
Results of the NRCNG are disseminated to the scientific community through publications and oral presentations, as well as by uploading annual proceedings on the website of the HPI and participating in the EPIS-STI –a web-based communication platform that allows members of the Euro-GASP network to report unusual events related to gonococcal resistance.
Table: Activities of the NRCNG during last six years (2013-2018)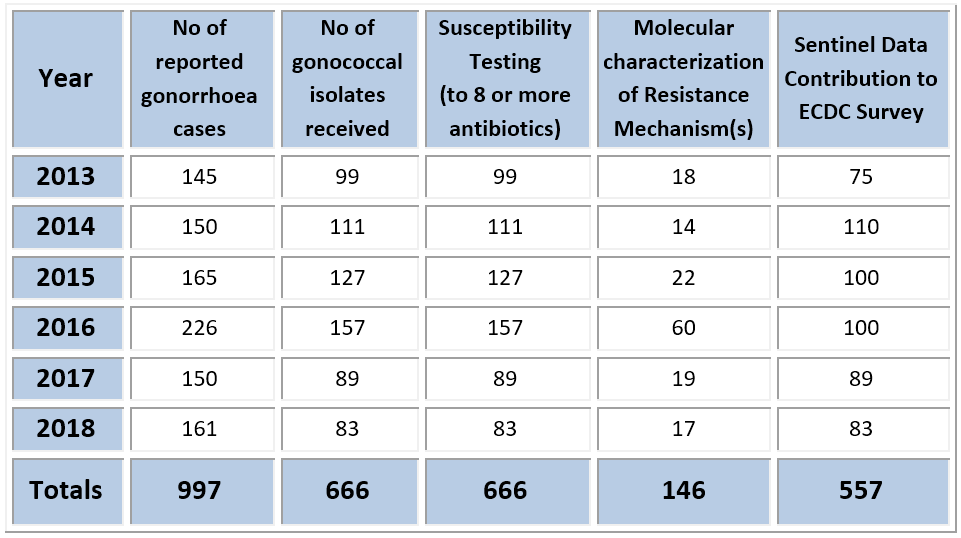 Findings of the NRCNG in the period 2013-2018 highlighted increased incidence of multidrug- and cephalosporin-resistant strains of N. gonorrhoeae in Greece, while contributing to the mapping of gonococcal resistance across Europe (Sexually Transmitted Diseases 2014; BMC Infectious Diseases 2015, 2017, 2018; J Antimicrobial Chemotherapy 2016; Lancet Infectious Diseases 2018).
PUBICATIONS
2019
Cole MJ, Quaye N, Jacobsson S, Day M, Fagan E, Ison C, Pitt R, Seaton S, Woodford N, Stary A, Pleininger S, Crucitti T, Hunjak B, Maikanti P, Hoffmann S, Viktorova J, Buder S, Kohl P, Tzelepi E, Siatravani E, Balla E, Hauksdóttir GS, Rose L, Stefanelli P, Carannante A, Pakarna G, Mifsud F, Cassar RZ, Linde I, Bergheim T, Steinbakk M, Mlynarczyk-Bonikowska B, Borrego MJ, Shepherd J, Pavlik P, Jeverica S, Vazquez J, Abad R, Weiss S, Spiteri G, Unemo M. Ten years of external quality assessment (EQA) of Neisseria gonorrhoeae antimicrobial susceptibility testing in Europe elucidate high reliability of data. BMC Infectious Diseases 2019, 19(1), 281 [http://dx.doi.org/10.1186/s12879-019-3900-z].
2018
Day MJ, Spiteri G, Jacobsson S, Woodford N, Amato-Gauci AJ, Cole MJ, Unemo M; Euro-GASP network. Stably high azithromycin resistance and decreasing ceftriaxone susceptibility in Neisseria gonorrhoeae in 25 European countries, 2016. BMC Infectious Diseases 2018, 18(1), 609 [http://dx.doi.org/10.1186/s12879-018-3528-4].
Harris SR, Cole MJ, Spiteri G, Sánchez-Busó L, Golparian D, Jacobsson S, Goater R, Abudahab K, Yeats CA, Bercot B, Borrego M-J, Crowley B, Stefanelli P, Tripodo F, Abad R, Aanensen DM, Unemo M, Euro-GASP study group. Public health surveillance of multidrug-resistant clones of Neisseria gonorrhoeae in Europe: a genomic survey. The Lancet Infectious Diseases 2018, 18(7), 758-768 [http://dx.doi.org/10.1016/S1473-3099(18)30225-1].
2017
Cole MJ, Spiteri G, Jacobsson S, Woodford N, Tripodo F, Amato-Gauci AJ, Unemo M, and Euro-GASP netowork. Overall low extended-spectrum cephalosporin resistance but high azithromycin resistance in Neisseria gonorrhoeae in 24 European countries, 2015. BMC Infectious Diseases 2017, 17:617 [doi: http://dx.doi.org/10.1186/s12879-017-2707-z].
MEMBERS